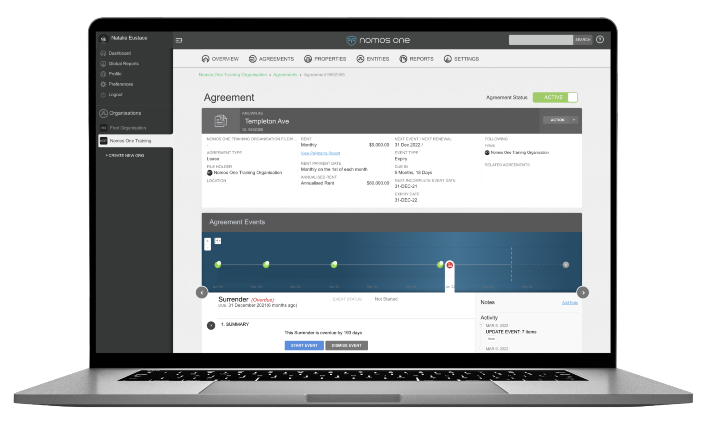 10 Years of Nomos One
As we near the end of 2022, Nomos One is celebrating our 10th birthday! Having been officially launched in October of 2012, we wanted to mark ten years of operation by sharing some of our company milestones, achievements, and fun memories.
Nomos One was founded by Jonny Mirkin in Dunedin, New Zealand in 2011 as a software service for lawyers. Jonny saw how commercial leases contained numerous documents and sets of information and wanted to provide lawyers with a way to manage their clients' leases in one place. After about a year of preparation, the product was launched on the 1st of October, 2012, servicing six clients. Nomos One was live! Our initial clients put a lot of trust in us as we were a small startup at that point, and for that, we are forever grateful. We spent the next couple of years working to improve the Nomos One software. At the end of 2014, we started shifting customers from the third to the fourth version of the Nomos One software, servicing roughly 20-30 customers at that time.
In 2015, we felt a bit adventurous and had a crack at drafting our own Deed of Lease. Most commercial lease agreements in New Zealand were made using one specific template, so we wanted to see if we could shake up the space a little bit. Our Deed of Lease included some novel ideas, such as an earthquake clause. We held a ceremony to celebrate the launch of the deed – a rather fancy event attended by Dunedin's mayor at the time. These few years are what we're fondly calling our "start-up" years, as we think we emulated some stereotypical Silicon Valley vibes. We had Swiss balls instead of chairs, a jigsaw puzzle corner, and mini scooters on which people zoomed around the office (safely!). We wanted to get standing desks at this time but they were a big investment, so instead, we went to Mitre 10, bought a heap of breezeblocks, stacked them up and placed the desks on top. Precarious? Maybe, but innovative? Absolutely!
When Jonny first started Nomos One, the shared office he was based in held a brief minigolf tournament each day to encourage connection between offices. And thus, the tradition began! At the first few rounds of offices, Nomos One was based in, there was a daily minigolf competition between staff. Someone would volunteer to set up a course in the office using items such as chair mats, office plants, or our standing desk breeze blocks. Sometimes we even added a desk fan for some wind turbulence. Each competitor had one chance to maneuver the course and get the golf ball into the "hole". The winner would be given the "Bath Street Cup" trophy, named after the office we had up until 2017.
In 2016, the International Accounting Standards Board announced the 'International Financial Reporting Standards 16 Leases', more concisely known as "IFRS 16". Prior to the standard, businesses were not required to officially report on the assets that they leased, just those that they owned. IFRS 16 changed the requirements, and businesses now had to report on their leases. We wanted to help our clients, not only with lease management but also with lease accounting. During this time, we also wanted to shift toward not just servicing lawyers but also leaseholders, the companies that leased the assets and property.
At the beginning of 2017, we secured our biggest customer yet, a major telecommunications company. In order to manage such a big client, we used the Dunedin council's Sexy Summer Jobs program (now called JobDun) to hire law students to handle the onboarding process. We hired two interns to begin with, and because they were so great, we hired around 80 more! In December 2016 we were a team of 10 full-time employees, and in May 2017 we had 95 full-time, part-time, and casual employees. We shifted from our Bath Street office into Burns House to accommodate all the new team members, but soon realised even that wasn't big enough! Just a few months later, we moved into the Public Trust building, looking on to Dunedin's beautiful First Church. While the mini golf fizzled out somewhat, our office boasted a large balcony on which we cultivated a garden and held many barbecues. The next few years brought with them a lot of change at Nomos One, in particular, because a lot of the law students had to get back to their studies! Also, as IFRS16 became effective on the 1st of January, 2019, we had a lot of work to do to ensure our clients had as smooth an experience as possible. We spent much time making sure each and every client had their lease accounting reporting ready for their end of the financial year.
As anyone reading would know, 2020 brought with it a number of unprecedented experiences. For Nomos One, we moved from our office in the Public Trust building to our current office – just around the corner – in the middle of March. On March 25th, with Covid-19 cases rising, we decided to do a trial work-from-home day. We planned to give it a go, and see how well we could handle a remote workforce if the country went into lockdown. Well, on March 26th, the government announced that New Zealand would be going into a lockdown. Thanks to some fantastic leadership, we transitioned to a work-from-home system extremely smoothly. While we did have our fair share of funny moments, working remotely worked for us. In fact, it worked so well that we kept the option for staff to work remotely as an integral part of Nomos One, with the majority of our team doing so. Using a hybrid work environment has greatly widened our talent pool, as people don't need to be based in Dunedin to work for Nomos One. We're very proud of the team we have built here at Nomos One, and we pride ourselves on allowing our team to cultivate a healthy work-life balance. We love to help team members along their career journeys – we have even had a few pass the bar while with us!
At the end of 2022, we wanted to celebrate 10 years of Nomos One with our incredible team members. Our social team organised a fantastic day of activities and celebration, featuring mini golf, laser tag, and some delicious cheese boards. Kara, one of our awesome support specialists, even made a beautiful cake to mark the occasion. We couldn't have reached 10 years without each and every team member who has been with us along the way.
In terms of the future of Nomos One, we wanted to ask our team what they were looking forward to most in the future of the company. In particular, team members are excited about the future of our software. We have been working hard to bring the future of lease accounting to those who need it. Being able to make new connections, both within the company and with clients is always an exciting prospect.
You can read more about our company journey here.